| Item ID | Starting Bid | Bids | Current Bid |
| --- | --- | --- | --- |
| 38565 | $500.00 | 0 | $0.00 |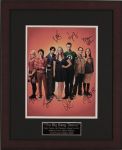 Winning Bidder
Winning bidders will be contacted after the in-person auction closes
Big Bang Theory Cast 11 x 14 photo (7 Autogrpahs) Kaey Cuoco, Jim Parsons, JOhnny Galecki, Melissa Rauch, Simon Helberg, Kunal Nayyar and Mayim Bialik
With Certificate of Authenticity
All autographed items undergo a detailed forensic examination by the experts at the independent third-party authentication firm R&M Real to confirm authenticity. All autographed items come with a Certificate of Authenticity and licensed counterfeit-proof authentication holograms from R&M Real.
Company Overview
R&M Real is comprised of over 80+ years of experience in law enforcement and forensic questioned document examination.
R&M Real is an independent third-party authentication firm that does not engage in the buying or selling of autographed collectibles. Their sole interest is examining handwriting and signatures to determine an items authenticity.
The company's Forensic Questioned Document Examiner has a 40-year career as a decorated New York City Police Lieutenant and Commanding Officer where he supervised countless investigations into crimes involving forgeries.
The company's memberships include The National Association of Document Examiners, The American College of Forensic Examiners Institute, The Manuscript Society, The International Grapho-Analysis Society and The American Association of Handwriting Analysts.
Certificate Of Authenticity, Hologram Identifier & Online Registry
All signatures are forensically examined in person (not by computer scan.)
All items from Charity Fundraising come with the R&M Real Certificate of Authenticity. This document will bear the R&M Real licensed counterfeit-proof authentication hologram that includes a matching number on both the certificate and the item itself.
After a thorough forensic examination of our autographed collectibles the Forensic Questioned Document Examiner of R&M Real signs each certificate.
All items that have a R&M Real Certificate of Authenticity are downloaded into their database and customers can look up their specific item by the unique hologram identifier verifying the items authenticity in their online registry.